One day in 2021, hundreds of millions of people got a glimpse of local artist's Steven Tette's work, after . Google spotlighted it on the its search engine's "Google Doodle." Steven already had shown his work throughout the country, but this was a new level of attention. He'll talk about that and about his work, which he describes as "African American realism."
Sunday services begin at 11 a.m. at Grace Fellowship Hall, on our campus at 8827 Heiferhorn Way in north Columbus. Services are centered on a talk—often a guest speaker like Steven Tette—and they also include music, readings, a bit of meditation and opportunities (always optional) to share your own thoughts. Join us a little early for coffee and conversation. Guests and visitors are welcome.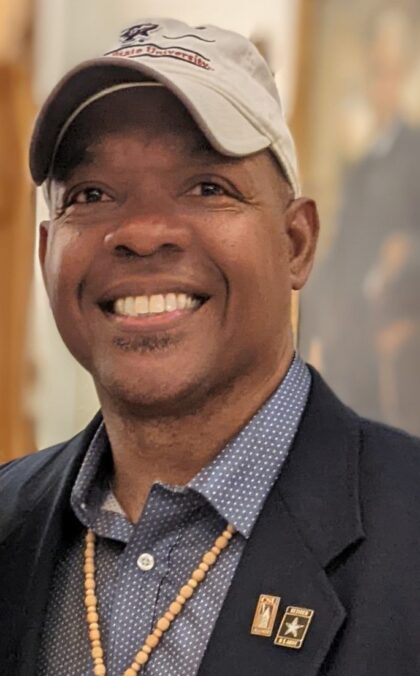 Stephen Tette's studio is in Phenix City, Ala. He works in many media, including oil, clay, acrylics, pastels, stone and woodworking. Steven grew up in housing projects on the south side of Pontiac, Michigan. His "obsession with art" came early, but he also admits he was a "wayward teen" who "dodged many bullets." He joined the United States Army at age 17, where he found structure, purpose and a career. During and after his military service he continued his education, eventually earning degrees in art and art education at Columbus State University.
Join us this Sunday to learn more about Steven Tette's work, about Google Doodle ripples and about Unitarian Universalism.
Our informal motto is "Deeds before creeds." Unitarian Universalism has roots in Christianity, but UU continues to evolve, drawing inspiration from many sources. The UU Fellowship of Columbus is truly non-denominational. Members subscribe to a range of religious, philosophical and ethical traditions. We are Christians, Jews, Buddhists, atheists, agnostics, humanists, Wiccans and more.
What ties us together are commitments to human rights and care for the planet. If you've had doubts about other organized religions, you might find a home here. (We're not that organized.)
We're meeting in person now, but watching local pandemic statistics. And we do take precautions, which you'll find here.
Topics: Art