Anton Flores-Maisonet* will mix personal stories of love, loss and a relentless hope with the account of Jesus' encounter with his disciples on the Emmaus road.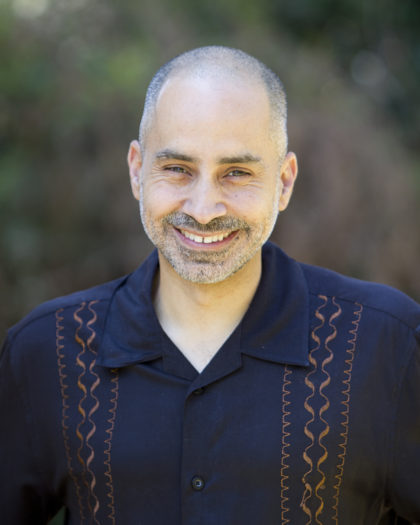 Through a candid and personal lens, Anton will discuss immigration, health care and teen suicide. He'll invite us to consider how "the stranger" can open our eyes to what Charles Eisenstein calls "the more beautiful world our hearts know is possible."
9:30 a.m. Adult Religious Education: "How Did Jesus Become God?" A continuing series, this week led by Maureen and Jim Humphries.
9:30 a.m. UU Singers practice.
10:30 a.m. Coffee and conversation before the service.
10:45 a.m. Sunday Service. This week's talk: "Only a Stranger in Georgia" by Anton Flores. (See above.)
10:50 a.m. The kids join us for the first few minutes of the service, which usually includes a children's story. Then they adjourn to a classroom for their own activities. This week Rick Spradlin will lead them in "Seeking Truth/Truth Seeking.
Childcare is available every Sunday from 9:30 a.m. until noon. 
*Anton Flores-Maisonet is co-founder of Alterna, a bilingual Christian community devoted to acts of hospitality, mercy and justice based in LaGrange, Ga. He also has been a visionary force behind some of Georgia's most creative responses to the "standing on the side of love" initiative of the Unitarian Universalist Association.
Anton co-founded a transitional housing program in LaGrange and a Habitat-style path to homeownership for first generation newcomers to the United States.
In rural Lumpkin, Ga., Anton has been on the front-lines of efforts to shut down Stewart Detention Center, a private, for-profit detention center via organizing vigils, including  acts of civil disobedience. Additionally ,  Anton and the members of Alterna are co- founders of El Refugio, a hospitality house and visitation ministry serving immigrants detained at Stewart Detention Center, their families, and friends.
In Guatemala, Alterna has developed a sister community relationship with a small coffee-growing community in La Libertad. In collaboration with the residents there and with their immigrant relatives in Georgia, Alterna has assisted with development projects including road development, housing construction, school expansion, and the development of a beekeeping cooperative.
Anton and his wife, Charlotte , have been married 22 years and  have two sons, Jairo ("Hi-row") and Eli.